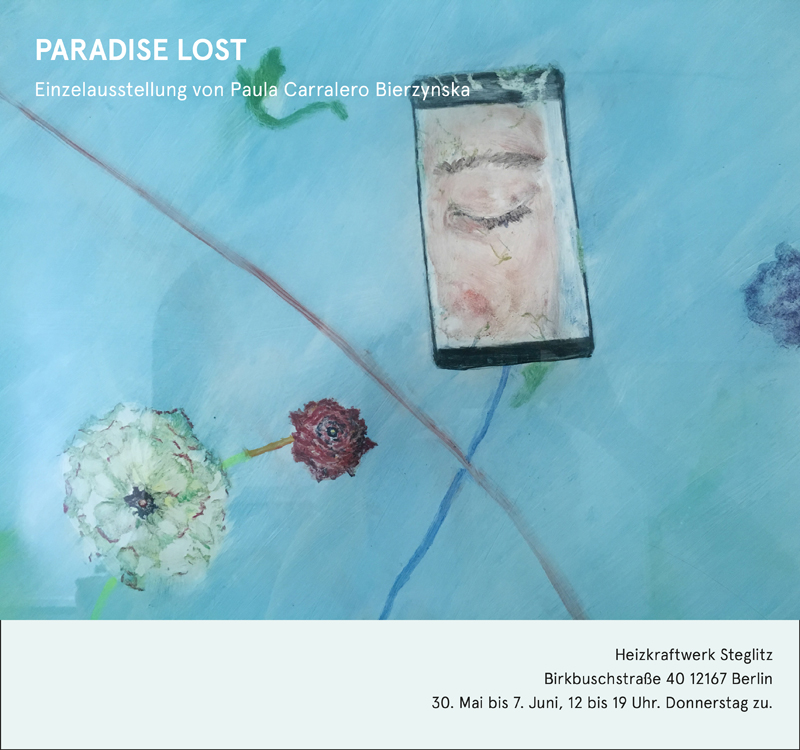 (English below)
Ich hoffe, dass ihr meine erste Einzelausstellung im spannenden Heizkraftwerk Steglitz besuchen könnt! Es wird auch im Garten Getränke in Flaschen geben! Ich würde mich sehr freuen, euch zu sehen und euch meine Abschlussarbeit als Meisterschülerin zu präsentieren.
Heizkraftwerk Steglitz
Birkbuschstr. 40 12167 Berlin
30. Mai bis 7. Juni
12 bis 19 Uhr
Donnerstag geschlossen.
Als Paula Carralero Bierzynska die Kunstsammlung der Finanzstadt der Banco Santander im Dezember 2019 besuchte, entdeckte sie eine Sammlung von tausendjährigen Olivenbäumen, die aus ihrem ursprünglichen Umfeld in neue Gebiete in geraden Linien umgepflanzt wurden. An die Finanzakkumulation und die Migrationsbewegung des späten Kapitalismus denkend, schuf sie Paradise Lost, eine Installation aus Hinterglasgemälden die sie während mehrerer Monate, den Jahreszeiten folgend, anfertigte: Monokulturen aus Tannen, Olivenbäumen, Ölpalmen und ein letztes Bild, der Frühling, der gleichzeitig die Hoffnung und ein Versprechen verkörpert: Wie kann die Technologie in Einklang mit der Natur kommen? Wird uns die Technologie überleben und von der Welt der Natur angeeignet werden?
Die Corona-Regeln werden natürlich eingehalten. Nur eine begrenzte Zahl an Besuchern kann den Raum gleichzeitig beitreten. Aber du kannst im Garten etwas trinken, während du wartest! Alle werden gebeten, den Mindestabstand, sowie die Hustenetikette einzuhalten, Masken im Innenraum zu tragen und die Hände im Voraus zu waschen. Bis dahin!
***
I hope you can come visit my first solo exhibition in the interesting Heizkraftwerk Steglitz. There will be bottled drinks in the garden! I am really looking forward to seeing you and present my master final work to you!
Heizkraftwerk Steglitz
Birkbuschstr. 40 12167 Berlin
May 30th until June 7th
12 until 19 p.m
Thursday closed.
When Paula Carralero Bierzynska visited the art collection of the Banco Santander's financial city, she discovered a collection of thousand-year-old olive trees, that had been replanted in straight lines from their original environment into this new area. Thinking of the financial accumulation and the migration movement of late capitalism, she created Paradise Lost, an installation of reverse glass paintings that she produced over several months, following the seasons of the year: monocultures of pines, olive trees and palm oil trees, and one final painting, Spring, which is both hope and promise at the same time: How can technology be brought into harmony with nature? Will technology survive us and be appropriated by the natural world?
Corona rules will, of course, be respected. A limited amount of visitors will be allowed to enter the space at once, but you can have a drink in the garden while you are waiting.
Everyone will be asked to keep the distance, to practice good coughing and sneezing etiquette, wear a mask inside the space and wash their hands in advance. See you there!